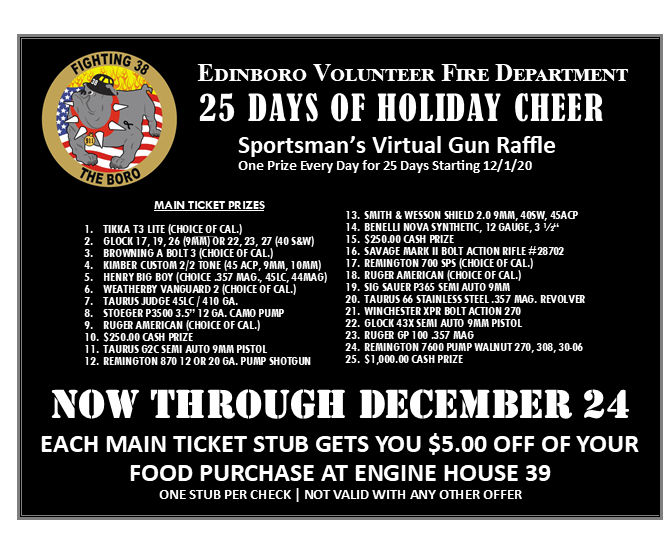 --- 2020 Sportsman's Extravaganza Update ---
Over the past several months we have been patiently watching, and eagerly hoping that the 2020 Sportsman's Extravaganza would occur as normal. The reality is, this will not happen. So when you're dealt lemons, you make lemonade. Santa is on his way, and he's packing heat!
With 25 prizes on the main ticket, we will draw one lucky winner on every day in December (additional surprises to come). Tickets are $10.00 each, and get you a chance at all 25 prizes. The gun safe raffle will be drawn with main ticket prize 25 on December 25th. To those who haven't purchased tickets (or want additional chances), please follow the link below.
GET READY TO WIN!
---
25 Days of Holiday Cheer Virtual Gun Raffle - Winner Listing
---
Information Regarding Engine House 39, Including Applications for Membership, Can Be Found Here.

---
---
Monthly Support Services Dinners
"Leave the Cooking to Us"
2nd Thursday of Each Month – Click Here for Details
Final Inspection Date Has Been Set

Chief Robert Glenn, November 19

Final inspection date for the new Rescue Engine 384 has been set. Members of the Edinboro Fire Department will be going for final inspection on December 8th. This process will be a very detail oriented look at the new apparatus allowing us to compare prebuild notes and drawings to ensure the apparatus was built to specification. In addition there will the be initial training on some of the systems and processes with this apparatus.

Once approved at the factory the new Rescue Engine will make trips ... (Full Story & Photos)


From Probationary to Active

Chief Robert Glenn, November 19

Over the past 2 months we have lost 3 probationary members, in a good way however. We would like to congratulate and welcome Todd Latimer, Dave Vroman, and Jason Knavel to the active side of the department. These three members have completed the training necessary to petition the department for a vote on moving them from probationary to active. All three members were successfully voted into the department as active members. We would like to congratulate them on their hard work and dedication. ... (Full Story)




Starting to Come Together

Chief Robert Glenn, November 13

We have received another production report from Pierce. Things are starting to shape up. Discussions are being had now about a final inspection date. We will keep you updated when the new Rescue Engine 384 will be showing up in the 'Boro.... (Full Story)




New Apparatus Photos Update

Chief Robert Glenn, November 09

Recently we had the honor of having our apparatus new and existing photographed again. We were able to update our apparatus page of the website to reflect the current fleet. Please go check out the new photos. Thanks to Eriepafire.com for the photos. ... (Full Story & Photos)

More Production Reports

Chief Robert Glenn, October 27

Attached are 2 more production reports for the New 2020 Pierce Enforcer HDRP Rescue Engine

The final inspection and delivery dates are still being narrowed down but we will keep everyone posted as we obtain the information. ... (Full Story & Photos)

Rescue Engine 384 Production Report

Chief Robert Glenn, October 04

Take a look at the 2 attached production reports for the new Rescue Engine 384. As you can see, things are starting to take shape and it wont be long until this apparatus will be responding to incidents protecting the community and surrounding areas. ... (Full Story)




TOWER LADDER 389 IS HERE

Chief Robert Glenn, August 27

This past weekend we took possession of the new Tower Ladder 389. It was quickly put to use during the Aerial Operations class hosted by the Edinboro Volunteer Fire Department over the weekend. It operated beside West Ridge Tower 479 and Tower 29 from West Mead #2 (Crawford County). In addition old Ladder 389 which is now owned by East Mead Fire Department (Crawford County) came to the class. Stay tuned for more news as we continue to train on the new unit prior to placing it in service. ... (Full Story & Photos)

Teasers for new 389

Chief Robert Glenn, July 17

We are within a couple weeks of taking delivery of the replacement for Truck 389. We were given some photos of the progress on the striping and lettering. ... (Full Story & Photos)

New Truck Company 389

Chief Robert Glenn, June 25

Some things have fallen into place and with the purchase of the new Rescue Engine 384 came the daunting task of selling the current Rescue Engine. While working on this the stars alligned and we were able to trade Rescue Engine 384 in and purchase a replacement and major upgrade for Truck Company 389! This was a former Cranberry Township, PA Truck.

2000 Sutphen Monarch SP 100 Tower Ladder
100 Foot aerial platform
470 gallon water tank
30 gallon Class A foam tank
- Plumbed to the bumper line, ... (Full Story & Photos)



At Glick Fire Apparatus putting the truck through its paces

© Copyright Protected - All Content Contained Within The www.EdinboroFire.org Domain Is Copyrighted By The Edinboro Volunteer Fire Department And May Not Be Used Without The Expressed Written Permission Of the Edinboro Volunteer Fire Department. This Includes All Pictures, Text, And Documents.