National Weather Service Alerts for Erie County, PA
The Call: A Portrait of America's Volunteer Fire Service
---

Thinking About Serving... Learn More Here
---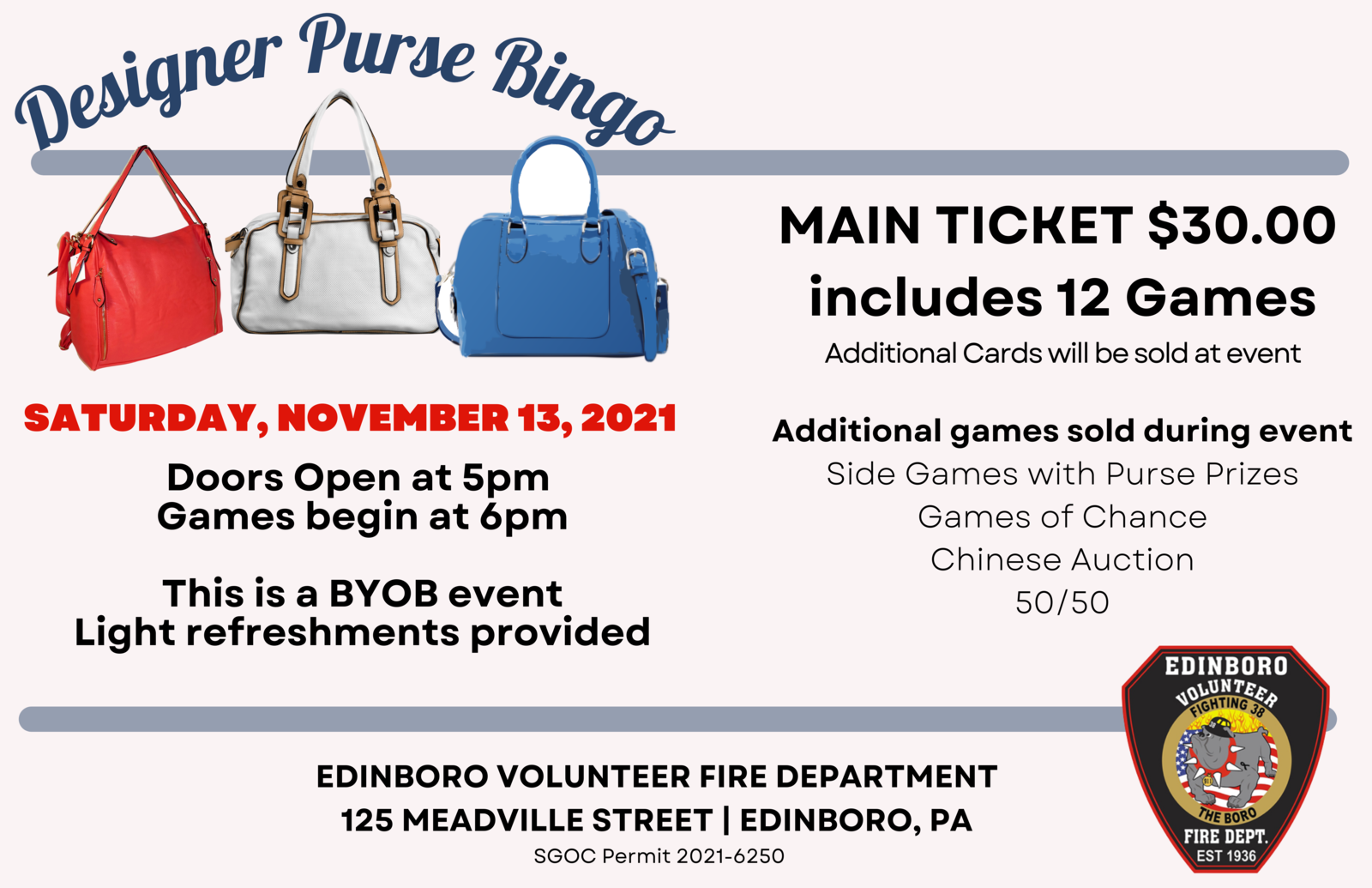 UPDATE... Due to several competing events, and consequently lower ticket sales than we had hoped for, we are cancelling this Saturday's Purse Bingo. We will be issuing full refunds, as well as a little something extra for the inconvenience. We look to reschedule this event for after the Holidays and hope that you will be part of it then! We sincerely thank you for your support!
---
Information Regarding Engine House 39, Including Applications for Membership, Can Be Found Here.


---
---
Monthly Support Services Dinners
"Leave the Cooking to Us"
2nd Thursday of Each Month – Click Here for Details
Rescue Engine 384 Ready for Training

Chief Robert Glenn, March 05

Rescue Engine 384 is in the 38 house!! Members are working diligently getting the remaining equipment loaded onto the apparatus in preparation for operator and driver training. The photos are from Fire and Marine Incorporated where all the equipment storage was custom made. We are hoping to have all the required driver and operator training completed for an in service date of April 1st. ... (Full Story & Photos)


Communications Drill

Chief Robert Glenn, January 13

This past Wednesday, members participated in a fun communications exercise for drill. Communication is key on the fire ground as well as other emergency incidents. Being able to properly relay a message that can be understood drastically increases the chance of a successful completion of the tasks assigned. During drill members were split up with Legos and radios. One member had the instruction sheet for a small Lego vehicle while the other one had the Lego pieces. Via radio transmissions directions ... (Full Story & Photos)


2020 By The Numbers

Chief Robert Glenn, January 11

With 2020 behind us now, here is a look at the year through some numbers:

- Edinboro Volunteer Fire Department was dispatched on 1137 incidents for the year. Of these incidents the municipalities are broken
down as follows:
- Borough of Edinboro (508)
- Washington Township (377)
- Edinboro University (22)
- Cussewago Township (55)
- Elk Creek Township (28)
- Franklin Township (45)
- Venango Township (14)
- Mutual Aid Responses (88)

There ... (Full Story & Photos)


Final Inspection Date Has Been Set

Chief Robert Glenn, November 19

Final inspection date for the new Rescue Engine 384 has been set. Members of the Edinboro Fire Department will be going for final inspection on December 8th. This process will be a very detail oriented look at the new apparatus allowing us to compare prebuild notes and drawings to ensure the apparatus was built to specification. In addition there will the be initial training on some of the systems and processes with this apparatus.

Once approved at the factory the new Rescue Engine will make trips ... (Full Story & Photos)


From Probationary to Active

Chief Robert Glenn, November 19

Over the past 2 months we have lost 3 probationary members, in a good way however. We would like to congratulate and welcome Todd Latimer, Dave Vroman, and Jason Knavel to the active side of the department. These three members have completed the training necessary to petition the department for a vote on moving them from probationary to active. All three members were successfully voted into the department as active members. We would like to congratulate them on their hard work and dedication. ... (Full Story)




Starting to Come Together

Chief Robert Glenn, November 13

We have received another production report from Pierce. Things are starting to shape up. Discussions are being had now about a final inspection date. We will keep you updated when the new Rescue Engine 384 will be showing up in the 'Boro.... (Full Story)




New Apparatus Photos Update

Chief Robert Glenn, November 09

Recently we had the honor of having our apparatus new and existing photographed again. We were able to update our apparatus page of the website to reflect the current fleet. Please go check out the new photos. Thanks to Eriepafire.com for the photos. ... (Full Story & Photos)

More Production Reports

Chief Robert Glenn, October 27

Attached are 2 more production reports for the New 2020 Pierce Enforcer HDRP Rescue Engine

The final inspection and delivery dates are still being narrowed down but we will keep everyone posted as we obtain the information. ... (Full Story & Photos)

Rescue Engine 384 Production Report

Chief Robert Glenn, October 04

Take a look at the 2 attached production reports for the new Rescue Engine 384. As you can see, things are starting to take shape and it wont be long until this apparatus will be responding to incidents protecting the community and surrounding areas. ... (Full Story)




© Copyright Protected - All Content Contained Within The www.EdinboroFire.org Domain Is Copyrighted By The Edinboro Volunteer Fire Department And May Not Be Used Without The Expressed Written Permission Of the Edinboro Volunteer Fire Department. This Includes All Pictures, Text, And Documents.